Venue and City
University of Munich - Ludwig-Maximilians-Universität München (LMU)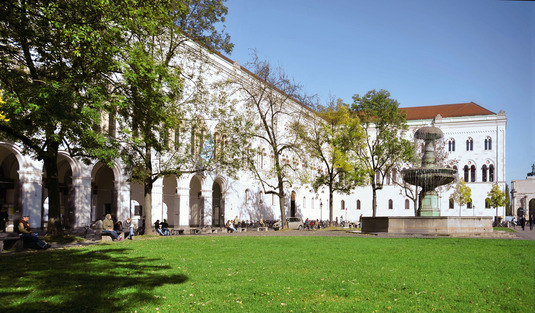 Conference venue: The LMU Main Building
When Ludwig IX, Duke of Bayern-Landshut, founded the Ludovico-Maximilianea in 1472, it was still located in Ingolstadt. It was only in 1826 that the Ludwig-Maximilians-Universität moved to Munich. Since 1840 it has been located in today's main building, designed by Friedrich von Gärtner. The increase in students and growth of study fields resulted in a geographical expansion of institutes all over Munich, while Mathematics and the Humanities remained in the main building. Already in the 19th century, the main building was expanded in the North along Adalbertstraße, and in the early 20th century, the atrium (Lichthof), together with the Auditorium Maximum, were added. Today the LMU is one of Europe's largest universities, with currently over 51.000 students.
The conference will be held in the Main Building of the University of Munich (Hauptgebäude der LMU).
Venue address:
Hauptgebäude LMU
Geschwister-Scholl-Platz 1
80539 München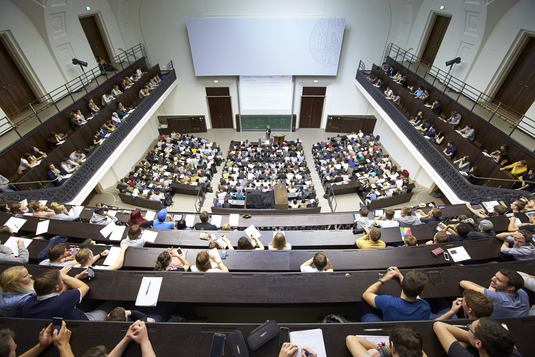 Lecture hall in the main university building.
The LMU is one of Germany's largest teacher education centres and caters for students of all school types and subjects, including English as a Foreign Language. Currently, more than 1,200 students are pursuing the study programme for Lehramt, which qualifies them to become English language teachers. During their course of study, TEFL students professionalise in the fields of didactics and pedagogy, literary and cultural studies as well as linguistics.
The City of Munich

Munich's skyline with the towers of St. Peter's Church, the Town Hall and the Frauenkirche
Munich, the capital of Bavaria, located on the river Isar, which springs from the Bavarian Alps, welcomes you! Home of diverse art and culture, technology, innovation, beer and education, the city takes its name from Munichen, i.e. "by the monks," which was first mentioned in 1158. The original name also gives the city its coat of arms. Within minutes you can enjoy some of Munich's most beautiful sights: the English Garden (Englischer Garten), one of Europe's largest urban public parks, which stretches to the north of the city, just opposite the LMU main building; the Triumphal Arch (Siegestor), crowned with a statue of Bavaria with a lion-quadriga, which is located just around the corner of the conference venue on Ludwigstraße. Further into the city, several renowned museums attract visitors and locals alike, such as the Pinakothek, the German Museum (Deutsches Museum) or the BMW museum (BWM Welt). And why not round off your day with a coffee at the traditional Café Dallmayr?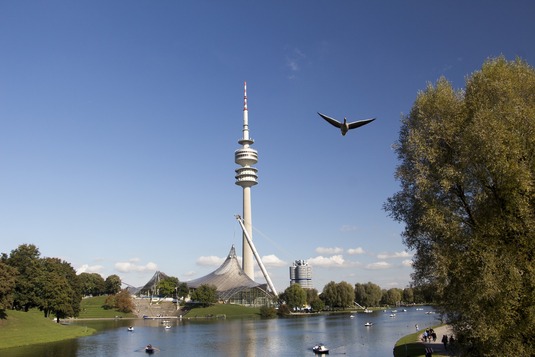 The Olympic Park Munich with the Olympic Stadium and the Olympic Tower