TEFL Day 2019
Global Education in the EFL Classroom
March 26th, 2019
University of Munich (Ludwig-Maximilians-Universität)
Organised by the Chair of TEFL (Prof. Dr. Christiane Lütge)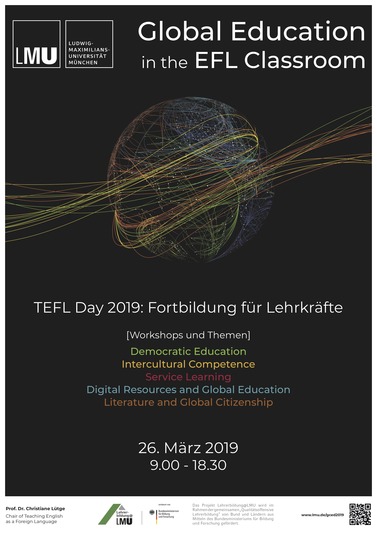 Since the publication of the "Gesamtkonzept für die politische Bildung an Bayerischen Schulen" (2017) political education has become entrenched as an interdisciplinary educational aim. The aim of all subjects is "to foster political and religious tolerance, to contribute to the promotion of a peaceful, regionally diverse Europe and to preserve an environment worth living in". Not only should these aims be integrated into everyday school life, but learners are meant to be educated politically within every individual subject. During this professional development day, embedded within an international conference, we are going to address how moral education, learning about democracy and environmental education can find their way into the foreign language classroom.
We are going to approach this question within the framework of Global Education which offers pedagogical answers to these challenges. It combines the attempts of peace and environmental education with intercultural learning while embracing global contexts. These endeavors have multiple parallels to foreign language education and, therefore, the professional development day is going to offer various impulses for the discussion of global issues in EFL. The TEFL Day is going to include two plenary talks by international scholars. Moreover, participants can attend a workshop of their choice.
Preliminary Schedule:
1st Plenary Lecture


Michael Byram

, "Internationalism and Competences for Democratic Culture in Foreign Language Teaching"
Plenary Workshop


Ben Goldstein

, "Developing Global Competence in ELT"
Choice of Workshops
Details can be found below
Podium Discussion
2nd Plenary Lecture


William Gaudelli

, "Belonging in an Age of Global Migration"
Workshop Details:
Having engaged in a foundational overview of global education in EFL through the morning plenaries, participants will have the opportunity attend a 90-min workshop of their choice on more focused approaches to working with global issues in the language classroom:
Workshop 1
Prof. Dr. Frauke Matz (Universität Münster)
"A Bitter Taste of Life - Practical Examples for Democratic Education in the EFL Classroom"
Workshop 2
Louise Carleton-Gertsch (Klett)
"Sounds interesting?! Why intercultural competence is the key to effective understanding"
Workshop 3
Dr. Petra Rauschert & Claudia Owczarek (LMU München)
"Service Learning in Foreign Language Education: Peace Education hands-on"
Workshop 4
Joseph Hopkins (European Center for Modern Languages/ Universitat Oberta de Catalunya)
"Selecting and evaluating digital resources for teaching language and educating global citizens
+++ This workshop is already fully booked. +++

Workshop 5
Dr. Christian Ludwig (Cornelsen)
"Developing students' global citizenship through global and local literature"
Contact and venue information:
Contact E-mail:
gced2019@lmu.de

Venue address:
Hauptgebäude LMU
Geschwister-Scholl-Platz 1
80539 München
This conference has been made possible through the support of the following institutions: