"Tag des Kontaktstudiums"
Interdisciplinary conference and teacher training day
20.07.2016 13:00 – 18:00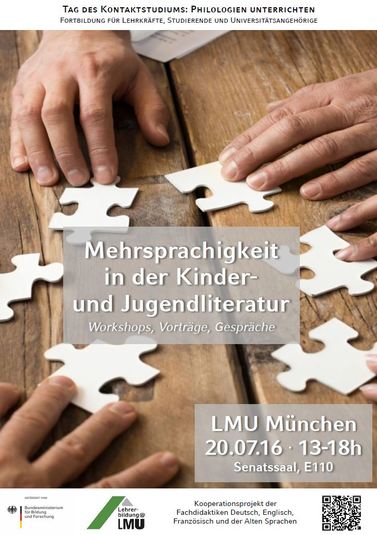 This joint format by the Didactics of English, French, German and Latin focuses on multilingualism in children's and young adult literature. The conference day is addressed to in-service teachers, teacher trainers and teacher trainees, university staff and students. The programme of this "Tag des Kontaktstudiums" includes a plenary talk, several topic- and subject-specific workshops, and a panel discussion.

Date: 20 July 2016, 01:00 p.m. - 06:00 p.m.
Venue: LMU Munich (Senatssaal, E110)
Downloads