New publication: Crossovers
Postcolonial Studies and Transcultural Learning
24.03.2017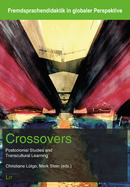 Crossing boundaries is a key issue in EFL teaching and Postcolonial Studies. It is an objective not only for the foreign language classroom that is facing increasingly global influences in terms of more heterogeneous societies, but also with a view to the growing heterogeneity in the literature, media and materials used in teaching and research. Because the intersections between Postcolonial Studies and TEFL are not only manifold but also highly significant, this volume brings together papers that explore, perform and theorize various kinds of crossovers, be they disciplinary, thematic or intermedial ones.
Crossovers is published in the series Fremdsprachendidaktik in globaler Perspektive.
Christiane Lütge holds the Chair for Teaching English as a Foreign Language (TEFL) at the University of Munich. Her research interests include media literacy, literature in the EFL classroom, inter- and transcultural learning, global education and foreign language teacher education.
Mark Stein is Chair of English, Postcolonial and Media Studies at WWU Münster. His areas of research include Afroeuropean studies, diasporic formations, porosity, ransnationalism and translocation, black and Asian British cultural production, and postcolonial literatures.