Munich Lecture in TEFL
This year's Munich Lecture in TEFL will be held by Nickly Hockly from The Consultants-E. The lecture will be on the topic of Digital Literacies and takes place on Tuesday, 4. February 2020, 16.00 – 18.00 c.t.
04.02.2020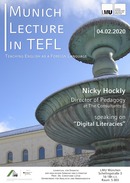 Abstract: Digital literacies
Digital literacies, the technical skills and social practices needed to effectively interact with digital technologies, are key21st century skills. They are increasingly important in educational curricula, across all subject areas, the world over. What exactly are digital literacies, and how can we develop students' digital literacies in the EFL classroom? This talk looks at some of the theory underpinning digital literacies, and also outlines practical classroom activities for students.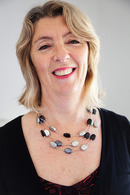 Nicky Hockly is the Director of Pedagogy of The Consultants-E (www.theconsultants-e.com). She is an international plenary speaker, and regularly trains teachers all over the world. Nicky has written several prize-winning methodology books about new technologies in language teaching. Her most recent books are Focus on Learning Technologies (2016) and ETPedia Technology (2017).