LMU UC Berkeley Research Cooperation at the Chair of TEFL
Workshop with Dr. Mark Kaiser from the Berkeley Language Center: "New Approaches to Exploiting Film in the Foreign Language Classroom and in Foreign Language Research"
26.03.2018
From the 24 March - 07 April 2018, we are pleased to welcome Dr. Mark Kaiser from the University of California, Berkeley, to a workshop series funded by the research cooperation between LMU Munich and UC Berkeley. Centrally, Mark Kaiser's research stay at LMU's Chair of TEFL will revolve around The BLC Library of Foreign Language Film Clips and its innovative perspectives for exploring the potential of film in foreign language research and teaching practice. Some of the workshop sessions will be open to students, teachers and members of the graduate school class of language education. Details on the specific programme will follow soon.
The cooperation between LMU and UC Berkeley is framed by LMUexcellent.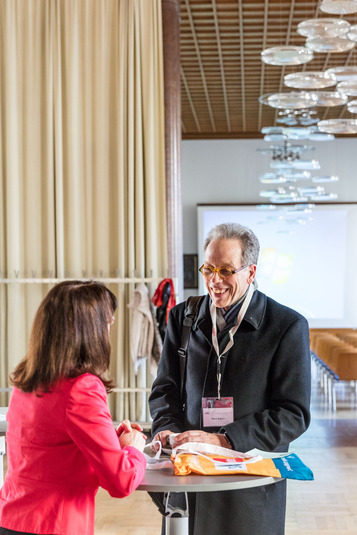 Dr. Mark Kaiser and Prof. Christiane Lütge at the Media Literacy conference in March 2017.