International Munich Lectures in Teacher Education Research
Three expert talks for the summer term 2021
31.03.2021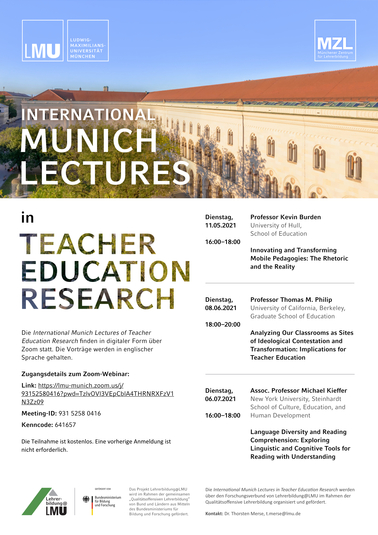 For the International Munich Lectures in Teacher Education Research of the summer term 2021, three esteemed international scholars will offer lecture talks to provide insights into their innovative and transformative research. They cover a broad spectrum, ranging from mobile pegagogies to analyzing classrooms as sites of ideological contestation and engaging with language diversity in the context of reading comprehension.
Topics and dates:
Professor Kevin Burden, University of Hull
"Innovating and Transforming Mobile Pedagogies: The Rhetoric and the Reality"
Tuesday, 11 May 2021
16:00-18:00
Professor Thomas M. Philip, University of California, Berkeley
"Analyzing Our Classrooms as Sites of Ideological Contestation and Transformation: Implications for Teacher Education"
Tuesday, 08 June 2021
18:00-20:00
Assoc. Professor Michael Kieffer, New York University
"Language Diversity and Reading Comprehension: Exploring Linguistic and Cognitive Tools for Reading with Understanding"
Tuesday, 06 July 2021
16:00-18:00
All relevant information regarding the International Munich Lectures in Teacher Education Research can be found in the poster download or the website of this lecture series.
Downloads